ZK 412
Country of origin

Czechoslovakia

Manufacturer(s)

ZB, Škoda

Designer(s)

Josef and František Koucký

Year(s) designed

1939

Production began

1939

Production ended

1942

Weapon type
Caliber

8mm Rapid

Action

Gas-operated

Overall length

3.22 feet (98 centimeters)

Barrel length

1.37 feet (41.8 centimeters)

Weight empty

10.6 pounds (4.8 kilograms)

Magazine/Cylinder capacity

30 round detachable box magazine

Muzzle velocity

680-720 m/s
The ZK 412, or the MK SS-42, is an experimental Czech assault rifle.
The rifle was designed by Koucký brothers, as evidenced by the "ZK" naming. The first prototypes were finished in either 1941 or 1942. The weapon was apparently trialed and even captured on the eastern front where it was tested, but that is unconfirmed.
Design Details
Edit
The weapon used a top-mounted fixed gas piston with nested recoil spring and under-hanging bolt carrier with a rotary bolt, which would later be seen in the AK series of rifles.
Ammunition
Edit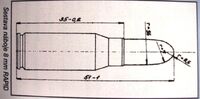 The weapon fired the
8mm Rapid
bullet, a round-nosed 8 gram bullet.
References
Edit
Ad blocker interference detected!
Wikia is a free-to-use site that makes money from advertising. We have a modified experience for viewers using ad blockers

Wikia is not accessible if you've made further modifications. Remove the custom ad blocker rule(s) and the page will load as expected.