Sa vz. 58 P
Country of origin

Czechoslovakia

Designer(s)

Jiří Čermák and Bohuslav Novotný

Production began

1959

Production ended

1984

Weapon type
Caliber
Action

Gas-operated, tilting breechblock

Overall length

845 mm (33.3 in), 636 mm (25.0 in) stock folded, 1000 mm (39.4 in) bayonet fixed

Barrel length

Length 390 mm (15.4 in), 4 grooves, right direction of twist, twist rate 1:240 mm (1:9.45 in)

Weight

2.91 kg (6.42 lb) empty, 3.59 kg (7.92 lb) loaded, 3.77 kg (8.32 lb) bayonet fixed

Magazine/Cylinder capacity

Double stack 30-round detachable box magazine (incompatible with AK-47), weight 0.19 kg (0.42 lb) unloaded

Cyclic rate

750-850 rounds/min (270 continuous rounds guaranteed safe from afterfiring self-ignition)

Maximum effective range

effective 350 m (383 yd), maximum 2800 m (3062 yd), open sights graduated from 100 m (109 yd) to 800 m (875 yd)

Muzzle velocity

705 m/s (2313 ft/s), energy 1988 J (1462 ft·lbf)
The Sa vz. 58 (7,62 mm samopal vzor 58, sometimes incorrectly CZ 58) is a select-fire assault rifle designed and manufactured in Czechoslovakia. The Sa vz. 58 is gas-operated (short-stroke piston). It looks similar to the AK-47, but its internal operation is different.
The Sa vz. 58 was developed by Ing. Jiří Čermák and Ing. Bohuslav Novotný. Development of new weapon (borrowing some ideas from previous experimental models) with project codename KOŠTĚ (broom) officially started in 1956, and the rifle was adopted by the Czechoslovakian army (the only member of Warsaw Pact not using an AK-47 variant) in 1958 and replaced vz. 52/57 semi-automatic rifle and Sa 24/26 (vz. 58/51) submachineguns. The new rifle was produced since 1959 by the state armament factory Česká Zbrojovka Uherský Brod. Production ended in 1984, leading to a grand total of 920,000. As of 2010, it is still the standard individual weapon in Czech and Slovak armies (the successor of vz. 58 should had been CZ 2000 weapon system - an AK-74 clone - but the project has been abandoned after Velvet revolution), although it's going to be replaced by the new CZ805 "Bren" rifle in the near future. Although outer design and ergonomics of vz. 58 looks similar to the AK-47, it is closer to the German WWII StG 44 and 7.92x33mm Kurz cartridge, as information about Soviet AK-47 and 7.62x39mm cartridge was not available in the beginning of development. The internal operation is completely different to AK-47, with locking similar to the Walther P38 or Beretta 92 pistols, and the striking hammer is linearly floating.
Variants
Edit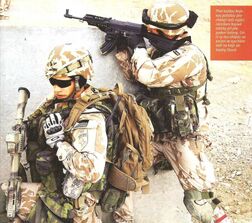 Military adopted
Edit
Samopal vzor 58 P (Pěchotní - infantry): standard fixed stock version (earlier stocks were wooden, since 1962 stocks were made from composite of splinters and epoxide).
Samopal vzor 58 V (Výsadkový - airborne): metal folding stock version for vehicle crew and airborne units.
Samopal vzor 58 Pi (Pěchotní s infračerveným zaměřovačem - infantry with infrared sight): with a mounting (similar to SVD mounting) originally for 1st generation infrared night vision sight NSP-2 or presently for modern-day Meopta MEO 50 S night vision scope, fixed stock, mostly used with conic flash suppressor and detachable folding bipod.
Today most of Czech Army troops use folding stock version, certain forces uses B&T upgrade rails and various electro-optical sights, the latest upgrade includes CAA M4-style buttstock and FAB Defense pistol grip.
Experimental
Edit
Automatická puška (automatic rifle) AP-Z 67: 7.62x51 calibre version developed in 1966 to 1967.
Útočná puška (assault rifle) ÚP-Z 70: 5.56x45 calibre version developed in 1970.
Experimentální zbraň (experimental weapon) EZ-B: bullpup version developed in 1976.
Ruční kulomet (light machine gun) project codename KLEČ (dwarf pine): 590 mm (23.2 in) barrel version (similar to RPK) developed in 1976.
Lehká odstřelovačská puška (light sniper rifle) vzor 58/97: marksman rifle developed by VTÚVM Slavičín.
Samopal (submachine gun) vzor 58/98 "Bulldog": 9x19 calibre variant developed by VTÚVM Slavičín.
Civilian
Edit
CZH 2003 Sport: first semi-automatic only variant, made by Zbrojovka Praga. Available with barrel lengths of standard 390 mm (15.4 in), shortened 295 mm (11.6 in) or extended 482 mm (19.0 in).
CZ 858 Tactical: another semi-automatic only variant made by Česká Zbrojovka Uherský Brod. Outer parts have new varnish coat (identical to original military rifles coating).
FSN01: yet another semi-automatic only variant made by Novohradský. Available with barrel lengths of standard 390 mm (15.4 in) or shortened 275 mm (10.8 in), outer parts are blued.
All original military vz. 58 parts are fully interchangeable. The civilian variants are not newly manufactured guns but are reassembled from existing, unused vz. 58 parts. Varied muzzlebrakes/flash suppressors, mountings and other aftermarket accessories are available, all standard military accessories (magazines, bayonet, folding bipod, conic flash suppressor, blank-firing attachment, fixed and folding stocks etc.) fit as well.
Comparison with AK-47
Edit
shorter (overall length 845 mm / 33.3 in, 636 mm / 25.0 in if stock folded)
lighter (3.59 kg / 7.92 lb with loaded magazine), lightweight (though sturdy and reliable) light metal magazines (0.19 kg / 0.42 lb unloaded)
chargeable by SKS clips, better safety, able to fire when stock folded, bolt catch (holds the bolt open on last shot)
Comparable
Edit
reliability in all conditions (uncleaned, in water, dust, mud, high and low temperatures)
single shot accuracy (max. 18 cm / 100 m = max. 6 MOA)
undemanding maintenance and use
difficult to control and not accurate during automatic fire (shorter, lighter, higher rate of fire)
shorter lifetime than AK-47 (still better than many other military weapons - bore, chamber, piston rod and locking piece are chromium-plated)
more small parts (field stripped to 9 parts - frame with barrel and fixed ejector, bolt with spring-loaded extractor, locking piece, bolt carrier, linear hammer, receiver cover with recoil and hammer springs, piston rod, piston spring and handguard)
Comparative test of vz. 58 and AK-47 and its clones passed off in Soviet Union in 1967.
References and further reading
Edit
External links
Edit
Ad blocker interference detected!
Wikia is a free-to-use site that makes money from advertising. We have a modified experience for viewers using ad blockers

Wikia is not accessible if you've made further modifications. Remove the custom ad blocker rule(s) and the page will load as expected.