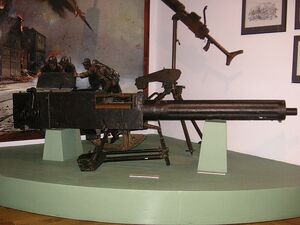 The
Vickers .50 machine gun
, also known as the 'Vickers .50' was basically similar to the .303 inches (7.70 mm) Vickers machine gun but scaled up to use a larger calibre 0.5-inch (12.7 mm) round. It saw some use in tanks and other fighting vehicles, but was much more commonly used as close in anti aircraft weapons on Royal Navy and allied ships, typically in a 4 gun mounting. The Vickers fired UK 12.7×81mm 50-calibre ammunition, not the better known US 12.7×99mm .
References
Edit
Ad blocker interference detected!
Wikia is a free-to-use site that makes money from advertising. We have a modified experience for viewers using ad blockers

Wikia is not accessible if you've made further modifications. Remove the custom ad blocker rule(s) and the page will load as expected.