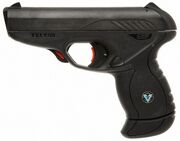 The Vektor СР1 was a semi-automatic pistol made in South Africa by Lyttleton Engineering Works (LIW) now Denel Land Systems, from 1996 to 2001.
The CP1 pistol was intended as a concealed carry weapon for Law Enforcement and civilian use. It has an unusual, streamlined design with a polymer frame and an even more unusual safety, located at the front of the trigger-guard. In several reviews it was characterized as being a radically designed gun that looks like something straight out of a science fiction movie. These reviews also state that it has no sharp edges, and is about as "snag-proof" as any combat gun can ever be, and because of its design it is a surprisingly comfortable gun to shoot, which makes it feel very ergonomic. The gun originally sold in the United States for a retail price of approximately $400. The pistol was also marketed in Italy, where it was chambered for the 9x21mm IMI cartridge.
The CP1 uses a gas-delayed blow-back action with a gas cylinder located below the barrel. The trigger is a single action, internal hammer. A manual safety is located at the front of the trigger guard. To set on Safe, the button must be pressed rearward from the front; to set on Fire, the button must be pressed forward from inside the trigger guard. The pistol is also fitted with an automated trigger safety. Magazines are double stack; 10 & 12-round magazines are flush fit with the bottom of the grip, 13-round magazines have extended finger rests at the bottom.
LIW was developing a .40 S&W caliber version of the CP1, to be known as the CP1N. It is unknown if the CP1N was ever actually produced.
Ad blocker interference detected!
Wikia is a free-to-use site that makes money from advertising. We have a modified experience for viewers using ad blockers

Wikia is not accessible if you've made further modifications. Remove the custom ad blocker rule(s) and the page will load as expected.