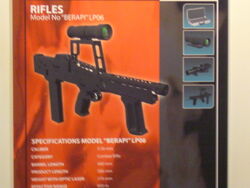 The VB Berapi LP06 is the first Malaysian manufactured assault rifle. The newly made Berapi LP06 does not relate to any previously made assault rifles. Hisham Abd Majid, the director of Vita Berapi in 2006, said that the rifle is designed by Vyktar Prykhodeka, a Russian that currently resides in Malaysia.
References
Edit
Ad blocker interference detected!
Wikia is a free-to-use site that makes money from advertising. We have a modified experience for viewers using ad blockers

Wikia is not accessible if you've made further modifications. Remove the custom ad blocker rule(s) and the page will load as expected.