Anyone is welcome to leave a message here!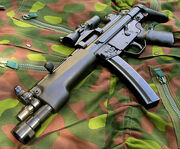 Hello,
It is a Ruger of some sort yes, but I don't know which model. It shares the same design as the standard mark III (due to the barrel) and has the same placement of the rear sights, nuts and writing on the side. Do you have any other pictures?
Thanks,

PFC R. HuntleyS&W M&P

22:40, April 8, 2012 (UTC)
Re:Lucky
Edit
Heey,
I guess you can say that :3, the americans have it all :P. How have you been doing? This Wiki reslly needs a chat..
Seeya around!

LCpl R. HuntleyS&W M&P

23:37, April 12, 2012 (UTC)
Yes a chat would be good on this wiki!
-Hill Nothing fan
Please do not place images in the middle of sentences, it makes articles unorganized and messy. I also deleted one of your images because it violated copy right policies, the website you retrieved it from stated;
"All rights reserved. Except as permitted under the principles of "fair use" under U.S. copyright law, no part of this site may be reproduced in any form, stored in a database or retrieval system, or transmitted or distributed in any form by any means—electronic, mechanical photocopying, recording, or otherwise—without the prior written permission of the National Museum of American History, Smithsonian Institution, or the copyright owner."
Cheers,

MSgt R. HuntleyS&W M&P

22:29, May 23, 2012 (UTC)
Ok, thanks for correcting my mistake. I didn't know i was violating anything, thank you. —Preceding unsigned comment added by Hill_Nothing_fan (talk • contribs)
RE: Colt M1877
Edit
Done. I simply redirected it to the new page. SmokeSound off! 16:57, August 29, 2012 (UTC)
RE: Luger
Edit
Both are variants of the Luger P08, and have been redirected accordingly. SmokeSound off! 05:29, March 18, 2013 (UTC)