Springfield Model 1871
Country of origin

United States

Manufacturer(s)
Year(s) designed

1871

Production began

1871

Production ended

1872

Weapon type
Caliber
Action

Rolling Block

Overall length

52in (1.32m)

Barrel length

33in (0.83m)

Weight

9.0lb (4.1kg)

Magazine/Cylinder capacity

1

Used by

United States (Navy)
The Springfield Model 1871 Rolling Block rifle was a breechloading rifle constructed by the Springfield Armory. The Model 1871 was based on the Model 1870, a design which incorporated the Joseph Rider designed rolling block action with the basic design of the 'Trapdoor' Springfield rifle.
Design Details
Edit
The Model 1871 was virtually identical to the Model 1870, with the exact same rolling block action used (ie the breech block would 'roll' out of the way of the breech, allowing the cartridge to be loaded) on the Model 1871. Likewise the stock was unchanged (although it was often shortened) as was the 33in rifled barrel and the overall weight and balance of the Model 1871.
However the Model 1871, unlike the Model 1870, passed the inspection of the US Navy as (due to a manufacturing error by Springfield on the Model 1870) the rear sight was placed in the correct position (as the Model 1870's rear sight was placed too close to the chamber, potentially meaning that the heated gas that escaped from the breech (which could not be sealed completely) could burn the shooter's face). Other subtle changes were made to the internal components to make the action more robust. This modification added a locking bolt to the action, which also changed the loading and firing procedure.
Ammunition
Edit
The Model 1871 used, like the Model 1870, the .50-70 Government cartridge produced by the Springfield Armory. The .50 calibre cartridge was used by the US Army prior to the Model 1871's adoption hence the US Navy's desire to use the .50-70 Government cartridge as it had proven effective for the army (although it would be replaced two years later by the .45-70 Government).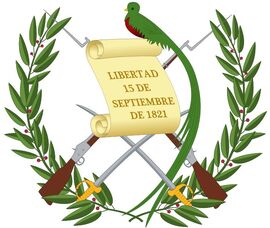 The Model 1871 was only originally produced to solve the issue of the Model 1870 Remington-Navy (ie the rear sight position) and hence Springfield had an intial order from the Navy Bureau of Ordnance of 12,000 rifles (up from the 10,000 Model 1870s originally ordered). Once those rifles had been shipped, Springfield filled a contract for 15,000 rifles for the New York militia (which contained other rolling block rifles from Remington, whom owned the rights to the concept). 
Interestingly the Model 1871 is a symbol on the Guatemala Shield of Arms, despite the fact that Springfield had no recored of selling large numbers of Model 1871s to Guatemala. Other countries that have an association (ie purchased) the Model 1871 include France, Spain (whom received 50,000 rifles in 1875), Denmark, Cuba, Greece, Argentina, Chile and Puerto Rico.
Resources
Edit
https://en.wikipedia.org/wiki/Springfield_Model_1871
https://en.wikipedia.org/wiki/File:Springfieldmodel1871.jpg - Image Origin