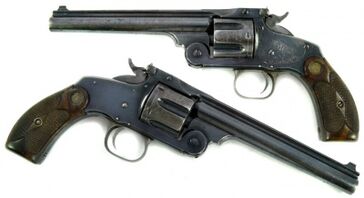 The Smith and Wesson New Model 3 was the last of the large frame single action top break revolvers made by Smith and Wesson. Introduced in 1878 the other Model 3 revolvers such as the Schofield, American and Russian models were all discontinued in favor of the New model 3. Normal chambering was .44 Russian, although different calibers were offered on special order or in related models such as the .44-40 Frontier Model, the .32-44 & .38-44 Target Models, and the very rare .38-40 Winchester Model.
The latch returned to the original Smith & Wesson barrel latch system, a change stemming mainly from the company's desire to stop paying royalties to George W Schofield. The New Model 3 was very accurate and was the second favorite sixgun next to the single action army colt revolver. Many pistol shooters preffered the New model 3 to Colt flatop revolvers as it was more accurate. Theodore Roosevelt himself had an engraved New Model 3 and was probably going to take it to Cuba but instead he took a Colt 38 double action revolver which he was recovered from the sunken USS MAINE.
Ad blocker interference detected!
Wikia is a free-to-use site that makes money from advertising. We have a modified experience for viewers using ad blockers

Wikia is not accessible if you've made further modifications. Remove the custom ad blocker rule(s) and the page will load as expected.