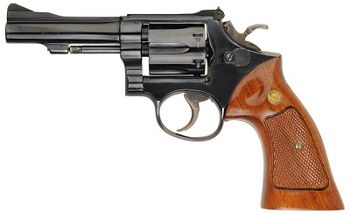 The Smith & Wesson Model 15
is a six-shot K-frame revolver chambered for the
.38 special cartridge
.
The gun is an updated version of the Smith & Wesson Model 10 with adjustable sights and a "target" action. It is also the "duty" version of the Smith & Wesson Model 14 Target Masterpiece. The biggest difference between the Model 15 and Model 14 was the Model 15 had a four inch barrel and the Baughman quick draw front sight while the Model 14 was initially only available with a six inch barrel and the Patridge front sight.
The Model 15 was issued to officers of the L.A.P.D. for many years. It was, at the same time, a standard issue to pilots in the United States Air Force as well as the Air Force Security Police. The Model 16 was a target model chambered for .32 S&W Long (and is not a common revolver). The Model 17 Target Masterpiece was a .22LR Model based on the same frame but for most of its production was made only with a six inch barrel. The Model 18 Combat Masterpiece (.22 LR) is a duplicate of the Model 15 with a four inch barrel. The Smith & Wesson Model 19 is an updated version of the Model 15, chambered for .357 Magnum.
The gun was produced from 1949 to 1999 in large numbers and is still used by police around the world to this very day, although it wasn't produced again after 1999, a stainless steel version known as the Smith & Wesson Model 67 is still in production, having been since 1972.
Ad blocker interference detected!
Wikia is a free-to-use site that makes money from advertising. We have a modified experience for viewers using ad blockers

Wikia is not accessible if you've made further modifications. Remove the custom ad blocker rule(s) and the page will load as expected.