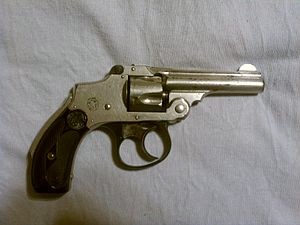 In 1857 Smith and Wesson with help from Rollin White to acquire a patent, introduced their first ever revolver, the revolver was the first practical revolver to use the new rimfire metallic cartridges and was a tip up which could hold seven 22 shortfire rounds, other revolvers at the time were cumbersome cap and ball revolvers which were slow to load. Humorous Mark Twain said the gun was good but was too small, in 1861 as the American civil war broke out Smith and Wesson soon introduced their more powerful Model 2 revolver.
The Smith and Wesson model 1 remained in production until 1882.
Ad blocker interference detected!
Wikia is a free-to-use site that makes money from advertising. We have a modified experience for viewers using ad blockers

Wikia is not accessible if you've made further modifications. Remove the custom ad blocker rule(s) and the page will load as expected.