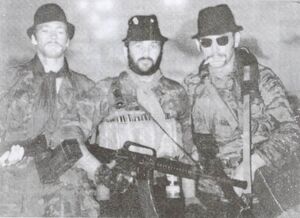 One of the most well known inventions in present time, the STANAG Magazine (for Standardized Agreement) is commonly seen on the M16 Rifle Family. STANAG Magazines currently hold 5, 10, 20, and 30 rounds and in some cases 40.
Used in NATO member countries, this magazine has been used on nearly every front possible. More predominantly known for chambering the 5.56×45mm NATO round.
In the 1960s, it was used in Vietnam in Colt's 20 round magazine. On file, it was extended to 30 rounds and proposed to all NATO countries in the 1980s, after the 5.56×45mm round was accepted by NATO.
In 2007, Magpul Industries released their PMAG, a highly reliable polymer magazine made for use in M16 and AR-15 rifles. The polymer is found by soldiers to be more rugged than the aluminum STANAG-type magazines. In April 2012, TACOM issued a notice notifying troops that non-USGI magazines, like the PMAG, had been put on an unauthorized list, and that they were only allowed to use standard-issue improved STANAGs. By June 2012, the Army revoked the message of the PMAG ban, clarifying that the message was that commercial magazines were not tested as thoroughly as USGI magazines. It was not an order or directive, and was optional for troops to consider, which allowed them to keep using their PMAGs. On November 26, 2012, the U.S. Marine Corps banned all non-USGI magazines, including the PMAG. The reason was that it was not compatible with the newly issued M27 IAR.  In response, Magpul began the process of arranging verification and official testing for their newer PMAG 30 GEN M3 polymer magazine, which is compatible with both the M27 and M16-series rifles.
It should be noted that not all STANAG-compatible firearms are able to use the PMAG.
Compatible
Edit
The following weapons are able to use the STANAG Magazine.