SM90
Country of origin

United States

Designer(s)

Wildfire Munitions

Production began

1985

Production ended

1986

Weapon type

Submachine gun

Caliber
Action

Blowback-operated, Open bolt

Weight

2.3kg

Magazine/Cylinder capacity

32 rounds

Cyclic rate

1200rpm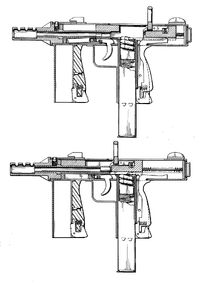 The SM90 is a 9mm submachine gun manufactured by Military Research Corp and Wildfire Munitions as a development of the International Ordnance MP2. The weapon was cancelled due to a patent infringment. A licence copy was made by Cellini-Dunn IMG in Guatemala as the SM-9.
The SM90 is a blowback operated submachine gun firing from an open bolt. It is fed from a grip inserted 36 round magazine and has a removeable foregrip that not only holds spare magazines but rotates 45/90degrees for left/right handed firing as well as handling of the recoil. The bolt is overhung and runs on 2 runners with return springs. The trigger section is at the front of the receiver with a highly durable sear beneath the barrel held in by the trunnion/muzzle compensator. It has a grip safety which also operates as a trigger if the event occurs. The weapon is fully ambidextrous as the cocking handle is at the top of the bolt and can be cocked with one hand as well as the magazine catch at the bottom of the magazine insert/pistol grip.