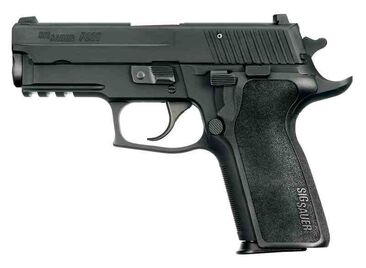 The
SIG-Sauer P229
is a compact-sized service-type pistol often used for duty and/or concealed carry purposes.
Description
Edit
The standard version features a DA/SA trigger. The pistol has also been made available in a DAK (Double Action Kellerman) model, which is a DAO system with two trigger reset points, and a lighter, smoother pull than that of traditional DAO handguns. The SIG P229 is essentially a smaller P228 with different caliber options, as the slide was designed to handle higher pressure rounds such as the .357 SIG. The P228 is merely a compact P226.
As SIG Sauer has slowly begun adopting the E2-style grip system across the P229 model range in 2011—a move similar to what is also happening to the larger P226—they have also begun using the .357 SIG/.40 S&W spec frame dimensions for their factory 9mm P229s, presumably to streamline the number of variations in parts needed to be kept in inventory. Although the manufacturer has announced that older-configuration magazines will continue to operate in the new receiver configuration, SIG Sauer has nonetheless revised new P229 9mm factory magazines to a design that is specific to the resized magazine well of the newly reconfigured receiver/frame. As a consequence, the newer magazines are not back-compatible, due to their larger diameter.
The US Coast Guard began switching over to the P229 in 2004, beginning with the first shipment of 14,000 handguns from the production facility. The P229 is noted for being used by numerous agencies of the United States government, such as the Secret Service, the Department of Homeland Security, Border Patrol and the Federal Air Marshal Service.
Ad blocker interference detected!
Wikia is a free-to-use site that makes money from advertising. We have a modified experience for viewers using ad blockers

Wikia is not accessible if you've made further modifications. Remove the custom ad blocker rule(s) and the page will load as expected.