| | | |
| --- | --- | --- |
| | When it counts. | |
SIG Sauer GmbH
Country of Origin

Germany

Location(s)

Eckernförde, Germany

Founder(s)

Friedrich Peyer im Hof
Heinrich Moser
Conrad Neher

Year of Founding

1853

Owner(s)/Parent Company

L&O Holding

Weapon Types
Famous Firearms
Area(s) served

Worldwide
SIG Sauer GmbH, more commonly known as SIG Sauer, is a subsidary of the Swiss firm L&O Holding, based in Eckernforde, Germany. Recognised as a producer of high quality, highly engineered firearms, SIG Sauer is in the top five firearm companies in terms of size and sales. Their range of pistols and rifles are highly desired, particularly in the US by both civilians and police and armed forces.
Schweizerische Industriegesellschaft (Swiss Industrial Company)
Edit
The first reference to SIG is found in a contract awarded to the Swiss Wagon factory, based in Switzerland, in 1853. The contract was for 30,000 muskets for the Switzerland Federal Ministry of Defence.
Sauer & Sohn
Edit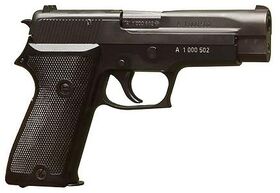 Swiss law prevented Switzerland based companies from producing firearms, unless the firearms were produced by a foreign based partner. In 1975 Sauer & Sohn, a German manufacturing firm that had previously dabbled in the firearm industry before the Second World War (producing hunting rifles, shotguns and the Sauer 38H pistol), were chosen to be SIG's partner. Their first product, the SIG Sauer P220 , was released in the same year.
A general purpose machine gun, the MG 710, was also produced between the two companies. Heavily based on the German MG42, the MG 710 was only exported to Bolivia due to its high cost.
SIG Sauer Inc.
Edit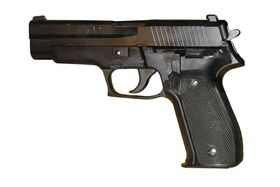 Originated in Virginia, United States as Sigarms Inc. in 1985 to import the P220 and P230 pistols. Five years later the company moved to New Hampshire. Current parent company L&O Holding bought Sigarms Inc. along with Sauer & Sohn, Swiss Arms, Blaser and Mauser Jagdwaffen GmbH (all companies in the SIG empire) in 2000, later renaming the combined group SIG Sauer Inc. in 2007.
SIG Sauer's emergence in the top five gunsmiths in the world has coincided with this merger. Large amounts of money have been invested in machinery and the workforce, meaning the sales of SIG firearms has increased by 50% since 2005 and continues to rise.
The SIG Sauer Academy, Epping, New Hampshire, is operated by German specialists and owned by SIG Sauer Inc. The company also claims to supply one third of the police forces in the US with pistols.
All guns are sold as SIG... except where stated:
P230
P238
P250
P938
GSR (M1911 clone)
Pro series
SSG 2000
SSG 3000
Sauer 90 (discontinued)
Sauer 200 STR (Scandinavian Target Rifle)
Sauer 200 TR (Target Rifle)
Sauer 202
Sauer 303
Swiss Arms

516 (based on AR-15)
522 LR (Long Rifle)
551
552
553 SOW
556
716 (based on 516)
751 SAPR
M400
SHR 970 (Swiss Hunting Rifle)
SG 542

Blaser

Blaser R93
HKS
K95
LRS2
R8
Tactical 2

Mauser Jagdwaffen GmbH
Machine Guns
Edit
Personal Defense Weapons
References
Edit
The Illustrated Encyclopedia of Firearms - Ian V. Hogg
Ad blocker interference detected!
Wikia is a free-to-use site that makes money from advertising. We have a modified experience for viewers using ad blockers

Wikia is not accessible if you've made further modifications. Remove the custom ad blocker rule(s) and the page will load as expected.