SIG KE7
Country of origin

Switzerland

Manufacturer(s)
Designer(s)
Year(s) designed

1924

Production began

1929

Production ended

1938

Weapon type
Caliber
Action
Overall length

46.6 inches (118 centimetres)

Barrel length

31.5 inches (80 centimetres)

Weight

17 pounds (7.7 kilograms)

Magazine/Cylinder capacity

25 round detachable box magazine

Cyclic rate

550 RPM

Used by

Republic of China
The KE7 (Kiraly, End, model 7) was a Swiss light machine gun produced by SIG.
From 1924 to 1929, Pál de Király and Gotthard End collaborated on a series of prototype self-loading rifles and machine guns, known as the "KE" series. The KE7 was the only of these designs to see production. A very limited quantity was produced in 1929 and sold to the Republic of China. The KE7 was also submitted to Swiss and British machine gun trials, but was adopted by neither country.
Design Details
Edit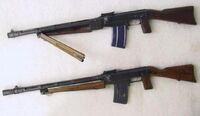 The KE7 was a recoil-operated light machine gun that fired from a open bolt; the weapon has wooden furniture. The front handhold of some variants also acts as a bipod and folds open when necessary; other variants have separate bipods fitted. A monopod is said to be able to be attached to the rear if necessary.
References
Edit