SIG AK53
Manufacturer(s)
Year(s) designed

1953

Number built

50

Weapon type
Caliber
Action
Overall length

39.3 inches (100 centimetres)

Barrel length

23.6 inches (60 centimetres)

Weight

10.8 pounds (4.9 kilograms)

Magazine/Cylinder capacity

20 round box magazine

Cyclic rate

300 RPM
The AK53 (Automat Karabine) was a Swiss prototype assault rifle designed by SIG.
History
The AK53 was developed in 1953 for the Swiss Army. A batch of 50 prototypes were produced and submitted for trials, but the design was rejected. Shortly thereafter, the AK53 was abandoned by SIG, who shifted their focus to the development of their next prototype, the AM55.
Design Details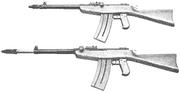 The AK53 was a gas-operated, blow-forward assault rifle. It had a fixed, non-reciprocating bolt. Instead, the barrel was pushed forward by a gas piston upon firing, emptying the chamber and allowing the spent cartridge to eject. Then a return spring, attached to the barrel from the chamber, would pull the barrel back into its original position while a new round was fed from the magazine. The weapon had a very low rate of fire and the system of operation was not seen to provide any advantage over conventional gas-operated assault rifles.
References