Ruger Mk II Auto Pistol
Country of origin

USA

Manufacturer(s)
Year(s) designed

1981 - 1982

Production began

1982

Production ended

2005

Weapon type
Caliber
Action
Overall length

160mm (6.25in)

Barrel length

120mm (4.75in)

Weight

1.01kg (36oz)

Magazine/Cylinder capacity

10

Used by

United States
The Ruger Mark II Auto Pistol, announced in 1982, was a pistol built by Strum, Ruger & Co. of Southport, USA. Building upon the Standard, a .22 semi-automatic pistol that virtually built the Ruger name, the MK II boasts a 10 round magazine, reduced weight (at 1.01kg/36oz) and minor trigger changes.
Design Development
Edit
The MK II was a development of the Ruger MK I, with several improvements. It maintained the same format of blowback pistol, fixed barrel and bolt with tubular receiver. These components were among those that could be interchanged with older models.
The improvements include:
Trigger - Changed material and shape, re-designed pivot system
Safety Catch - Re-designed to allow bolt to be retracted and chamber examine when safety is applied
Magazine - Holds 10 rounds instead of the former 9
Receiver - Rear cut away on both sides allowing for easier bolt retraction.
Bolt - Bolt hold open device re-designed
The MK II also had several different barrels for different purposes:
Standard lengths - 120mm (4.75in) / 152mm (6in)
Target model - 152mm (6in)
'Bull Barrel' - Heavy 127mm (5in)
Ammunition
Edit
The MK II used the .22 Long Rifle RF round, as used by the MK I. The magazine can hold 10 of these rounds.
The MK II was released in two unique versions, designed to reignite Ruger's hold on the .22 pistol market. These both celebrated Ruger's earlier pistols and introduced new features to the MK II.
Red Eagle
Edit
Although not continued from the MK I the "Red Eagle" variant did not appear until the 50th Anniversary model (MK I Red Eagle - 1949) which featured a silver eagle on a red background on the grip.
Suppressed
Edit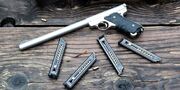 A variant of the target pistol, featuring a sound suppressor which uses a primary baffle of 303 stainless steel and a secondary baffle of 6061-T6 aluminium alloy. It allows the use of high velocity rounds reliably, as well as the standard .22 Long Rifle round. The specifications of the suppressed version are: Overall length 33.7 cm (13.25in); a suppressor length of 18 cm (7in); a diameter of 2.5 cm (1in) and weight of 1.2kg (41oz).
The MK II Supressed is finished in US Navy spec stainless-matte finish. 
With production having begun in 1982 Ruger MK II was used by several organisations, such as the US Army for training purposes as well as extensive use as a target pistol in its 'Target' form. Furthermore, the MK II Suppressed version saw some use with the US Navy.
The MK II was later replaced in 2004 by the Ruger MK III , a further developed version of the original "Standard". The production of the MK II would continue for a further year before ending in 2005, with remaining stocks of the MK II being sold off to dealerships across the globe.
Resources
Edit
Modern Small Arms - Ian V. Hogg