Designed in 1985 and produced from 1986 to replace the Ruger Six line, the Ruger GP100 from Sturm, Ruger & Co. is a solid frame, six or seven-shot double action revolver. Intended to shoot an unlimited number of .357 magnum rounds the Ruger GP100 was made stronger than other revolvers at that time and more so then previous Ruger models, while retaining the normal Ruger style of Stainless or Blued steel and heavy frame.
Design Details
Edit
Hailed as the first in the second generation of double action revolvers from Ruger, the GP100 was designed with seperate springs for the hammer and trigger (similar to a design being developed in the 1980's in Britain through the Sterling Revolver) allowing for a smoother trigger action. Further new features were taken from the Ruger Redhawk, such as the crane-lock and maintained frame thickness across all calibers.
Unlike other revolvers, the GP100 is avaliable with several different types of grips. By using a peg grip to cover the hammer spring and strut, any grip could then be mounted to the frame, so long as it covered these components. This feature is a further design feature of the second generation double action revolvers that Ruger produce.
The Ruger GP100 uses several safety features, all intoduced in earlier models by Ruger. The transfer-bar trigger safety mechanism, patented and produced from the Ruger Blackhawk (a Single-action revolver) is used, along with the firing pin being located in the frame.
Barrel lengths avaliable are 3in (76mm), 4.2 (107mm) and 6in (152mm). Davidson's, a Ruger distributor, sold several GP100s with a 5in (127mm) barrel. All GP100s are able to be shot in Double or Single action.
Ammunition
Edit
The
Ruger GP100
was originally intended to shoot
.357 magnum
rounds. Furthermore the
GP100
was designed to fire an unlimited number of .357 magnum rounds, all shot from a six-shot cylinder. The
GP100
, by virtue of being chambered for .357 magnum rounds can also shoot
.38 Special
cartridges.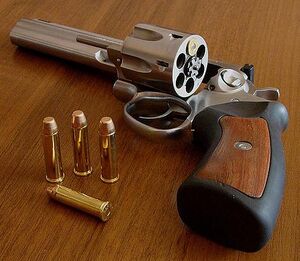 Some GP100s are avaliable chambered to fire the .327 Federal Magnum cartridge. Unlike the .357 Magnum/.38 Special GP100s, the .327 Federal Magnum is shot from a seven-shot cylinder.
The GP100 was intended to replace the Six series. Therefore the same markets the Security, Speed and Service Sixes were sold in, such as hunting and target shooting, the GP100 was also sold in. Special versions of the GP100, sold by its catalogue designation GPNY, were chambered for .38 Special cartridges and sold to the New YorK Police Department. These were never issued to officers, whom were instead issued with the Double Action Only Ruger Service Six.
A review on AmericanRifleman.org speaks of the GP100:
"First built as a replacement for the Security-Six, Speed-Six and Service-Six revolvers, the GP100 makes handling .357 Mag. easier than ever and is a staple of Ruger's line. Easy on the hand—GP100s remain one of the most comfortable revolvers to shoot—and on the budget, this revolver has been a favorite since its introduction in 1985. And, just like all Ruger models, it's 100 percent made in the U.S.A." - Found on the AmericanRifleman.org website.
Resources
Edit
http://en.wikipedia.org/wiki/Ruger_GP100
http://www.americanrifleman.org/blogs/ruger-gp100-gotw/ http://en.wikipedia.org/wiki/File:GP-100%26357mag.jpg - Ruger GP100 2
http://en.wikipedia.org/wiki/File:GP100-4-md.jpg - Ruger GP100
Ad blocker interference detected!
Wikia is a free-to-use site that makes money from advertising. We have a modified experience for viewers using ad blockers

Wikia is not accessible if you've made further modifications. Remove the custom ad blocker rule(s) and the page will load as expected.