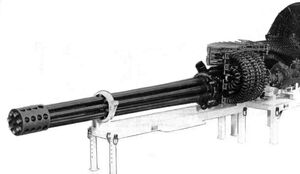 A rotary cannon, aka rotary autocannon and Gatling-type cannon is a rapid-firing weapon that utilizes multiple barrels in a rotating cluster to provide a sustained rate of fire greater than single-barreled machine guns or automatic cannon of equivalent caliber. Rotary cannon are particularly more common with the US and Russia.
List of rotary cannons
Edit
Ad blocker interference detected!
Wikia is a free-to-use site that makes money from advertising. We have a modified experience for viewers using ad blockers

Wikia is not accessible if you've made further modifications. Remove the custom ad blocker rule(s) and the page will load as expected.