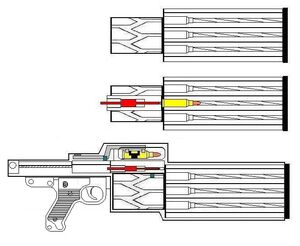 The Rheinmetall RMG 7.62 is a machine gun under development by Rheinmetall Defence. The weapon comes with 3 rotating barrels to reduce overheating and erosion during a firefight.
The RMG 7.62 is a development of the MG3, intended as a vehicle mounted weapon where changing the overheated barrel would be a problem. Like the MG3, it is a recoil operated weapon that fires at about 800rpm and uses the belt feed from the MG3. The weapon comes with a cluster of 3 barrels that change over when overheated leaving the previously lined up barrel to cool off. This is not a rotary weapon like a Minigun, although it appears to be one externally.
Ad blocker interference detected!
Wikia is a free-to-use site that makes money from advertising. We have a modified experience for viewers using ad blockers

Wikia is not accessible if you've made further modifications. Remove the custom ad blocker rule(s) and the page will load as expected.