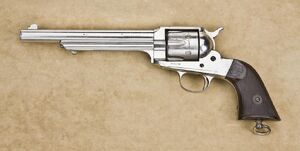 In 1890 Remington Arms launched a new solid frame revolver after the Remington 1875's failure in the market, the Remington 1890 police had a loading gate, an ejector rod a lanyard ring ,and it was chambered for .45 Colt. The Remington 1890 was identical to the 1875 and the only difference was the missing blade at the ejector rod.
The revolver was not much of a success; only 2,000 were ever produced and not many saw service as police revolvers, although a few were used by the Indian police on western reservations. With only six years of production the Remington 1890 is sought after by collectors.
Today, replicas of the 1890 are being produced by Uberti.
Ad blocker interference detected!
Wikia is a free-to-use site that makes money from advertising. We have a modified experience for viewers using ad blockers

Wikia is not accessible if you've made further modifications. Remove the custom ad blocker rule(s) and the page will load as expected.