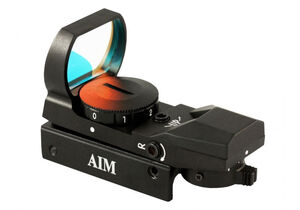 A Red Dot Sight (or RDS) is an optic that consists of a small red LED light projected onto a lens.
The red dot sight is intended for use as a tool to enable rapid target acquisition of close range targets; hence, red dots are often mounted on rifles that are intended for use as CQB (close quarters battle) rifles, as fast target acquisition and engagement are a must in close quarters combat.
Ad blocker interference detected!
Wikia is a free-to-use site that makes money from advertising. We have a modified experience for viewers using ad blockers

Wikia is not accessible if you've made further modifications. Remove the custom ad blocker rule(s) and the page will load as expected.