Pieper revolving carbine
Country of origin

Belgium

Manufacturer(s)
Year(s) designed

Late 1890s

Production began

Late 1890s

Production ended

Some time after the late 1890s

Weapon type

Revolving rifle

Caliber

8mm Pieper

Action

Double action, gas seal

Magazine/Cylinder capacity

9-round cylinder

Used by

Mexico
The Pieper revolving carbine is a Belgian carbine.
The weapon was developed in the late 1890s by Pieper in Belgium. It is only known to have be used by the Mexican Rural Police. Very few were made and it is very highly valued by collectors because of that.
Design Details
Edit
The Pieper uses the same gas seal system as the Nagant M1895 revolver. It holds nine rounds in a swing-out cylinder.
Ammunition
Edit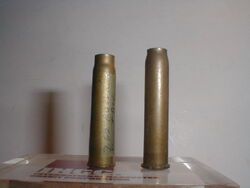 The weapon used the 8mm Pieper bullet, which is essentially a longer 7.62x38mmR bullet.
References
Edit
Ad blocker interference detected!
Wikia is a free-to-use site that makes money from advertising. We have a modified experience for viewers using ad blockers

Wikia is not accessible if you've made further modifications. Remove the custom ad blocker rule(s) and the page will load as expected.