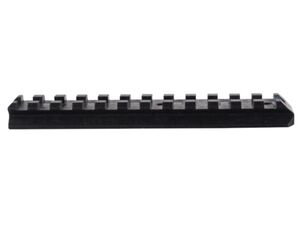 The
Picatinny rail
, also known as a
MIL-STD-1913 rail
or
STANAG 2324 rail
, is a bracket used on some firearms in order to provide a standardized mounting platform. A similar system is the Weaver rail mount.
Its name comes from the Picatinny Arsenal in New Jersey, USA where it was originally tested and was used to distinguish it from other rail standards at the time. The rail comprises a series of ridges with a T-shaped cross-section interspersed with flat "spacing slots". Scopes are mounted either by sliding them on from one end or the other; by means of a "rail-grabber" which is clamped to the rail with bolts, thumbscrews or levers; or onto the slots between the raised sections.
The rail was originally for scopes. However, once established, the use of the system was expanded to other accessories, such as tactical lights, night vision devices, laser sighting modules, reflex sights, fore grips, bipods, and bayonets. Because they were originally designed and used for telescopic sights, the rails were first used only on the receivers of larger caliber rifles. But their use has extended to the point that Picatinny rails and accessories have replaced iron sights in the design of many firearms, and they are also fitted on the undersides of frames and even on grips.
Technical specifications
Edit
In order to provide a stable platform, the rail should not flex as the barrel heats and cools; this is the purpose of the spacing slots: they give the rail considerable room to expand and contract lengthwise without distorting its shape. The Picatinny locking slot width is 0.206 in (5.23mm). The spacing of slot centers is 0.394 in (10.01mm) and the slot depth is 0.118 in (3.00mm).The only differences between the Picatinny rail and the similar Weaver rail are the size of these slots and the fact that they are standardized. Weaver rails have a slot width of 0.180 in (4.57mm), but are not necessarily consistent in the spacing of slot centers. Some accessories are designed to fit on both Weaver and Picatinny rails; but most Picatinny devices will not fit on Weaver rails.
External links
Edit
Ad blocker interference detected!
Wikia is a free-to-use site that makes money from advertising. We have a modified experience for viewers using ad blockers

Wikia is not accessible if you've made further modifications. Remove the custom ad blocker rule(s) and the page will load as expected.