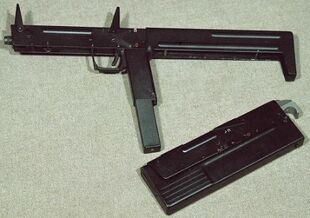 The PP-90 is a Russian 9 mm folding submachine gun, developed by the KBP Instrument Design Bureau in Tulafor use with special units of the Russian Ministry of Internal Affairs (MVD). It is designed for close quarters combat, particularly engagements that require the weapon deployed rapidly in unusual circumstances.[1]
Ad blocker interference detected!
Wikia is a free-to-use site that makes money from advertising. We have a modified experience for viewers using ad blockers

Wikia is not accessible if you've made further modifications. Remove the custom ad blocker rule(s) and the page will load as expected.