P8 pistol
Talk

0
1,114pages on
this wiki
The Heckler & Koch P8 is the standard side arm of the Bundeswehr (German armed forces). It was introduced in 1994 to replace the Walther P1 that was previously in service with their armed forces for 35 years. The P8 is built by Heckler & Koch and is a modified version of their USP chambered in 9 mm x 19. The frame is made from fiberglass-reinforced polymer with stainless steel inserts and the slide is manufactured from stainless steel. As with all variants of the USP series, the P8 includes the mechanical recoil reduction system into its design, drastically reducing the amount of recoil both felt by the shooter and absorbed by the handgun.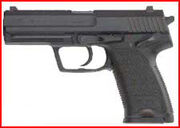 Changes From Standard USP
Edit
Safety mechanism changed to meet Bundeswehr standards (a reversed safety/decocker lever - on the P8, down indicates 'safe', and up indicates 'fire' — this is the opposite of the standard USP, and the 'S' ("safe") and 'F' ("fire") letters being printed onto the frame instead of onto the lever itself).
Translucent, dust protected magazine.
Traditional land and groove barrel profile as opposed to HK's proprietary polygonal barrel.
Specifications
Edit
Caliber: 9 x 19mm
Magazine capacity: 15 rounds
Weight (unloaded): 770 grams
Weight (loaded): 985 grams
Weight magazine: 55 grams
Weight bullet: 12 grams
Bullet speed (V(0)): 360 m/s
Ideal range: 50 meters
Max Range: 150 meters