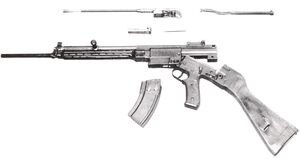 The NDR was an assault rifle of East German origin. It was chambered in the 7.62x39mm round and similar to the HK G3 but using gas operation.
The NDR assault rifle was an entrant into the East German armed forces. It externally resembled the G3 but internally the Sturmgewehr 44. It was chambered in the 7.62x39mm round fed from 30 round magazines and gas operated using a tilting bolt. It was resistant to the likes of dirt but found too complicated when field stripping. The NDR was trialled against the Czechoslovak Vz58. The project was cancelled as the AK-47 was preferred
Ad blocker interference detected!
Wikia is a free-to-use site that makes money from advertising. We have a modified experience for viewers using ad blockers

Wikia is not accessible if you've made further modifications. Remove the custom ad blocker rule(s) and the page will load as expected.