Mann pistol
Country of origin

Germany

Manufacturer(s)

Fritz Mann Feinmaschinen

Designer(s)
Year(s) designed

1920s

Production began

1920

Production ended

1923/1924

Weapon type
Caliber
Action
Overall length

4.1 inches (10.4 cm)

Barrel length

1.8 inches (4.5 cm)

Weight

0.5 pounds (0.23 kg)

Width

2.7 inches (6.9 cm)

Magazine/Cylinder capacity

5 round detachable box magazine

The Mann pistol is a German pocket pistol.
The aim of the Mann's design was to create a simple, light-weight, reliable design. However, Mann did not want to use use blowback as it made the gun heavy.
Design Details
Edit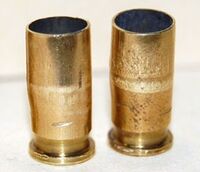 The Mann did not have a breech locking mechanism, so the gun's operation had to slow down enough to eject the cartridge. Mann chose a circular chamber groove for the gun, which slowed the cycling down enough, where pressure in the barrel forces the cartridge into the groove, delaying the action. The gun also had barrel retention, which was innovative at the time.
An interesting quirk about the Mann was that it was supposed to bulge cases, which would usually be a bad thing on a modern firearm.
References
Edit