Heckler & Koch MP5
Talk

0
1,113pages on
this wiki
Redirected from MP5
H&K MP5
Country of origin

Germany

Designer
Production began

1966

Production ended

still in production

Weapon type
Caliber
.40 S&W (10x22mm)
10mm Auto (10x25mm)
Action

Roller-Delayed Blowback

Overall length

680 mm with fixed buttstock
660 mm / 490 mm with folding buttstock

Barrel length

225 mm (9 inches)

Weight empty

2.54 kg / 2.88 kg
(fixed/folded stock)

Magazine/Cylinder capacity

30 rounds / 15 rounds, detachable box magazines

Cyclic rate

800 RPM

Maximum effective range

200 m

The MP5, designed by Heckler und Koch, is a lightweight, air-cooled, select-fire, delayed blowback submachine gun. It is in use with multiple law enforcement agencies and militaries worldwide.
The MP5 was first conceived in 1964 as the MP54 (a.k.a. HK54). The prototype was first released in 1965. It was adopted by the Deutsche Polizei (German police) as the MP5.
Design details
Edit
The MP5 is a scaled down version of the G3 rifle, chambered in 9x19mm Parabellum. It retains the basic principles of the G3 action, and fires from a closed bolt.
All MP5 SMGs are fitted with fire control groups capable of several modes of fire. There are two main variants - three-positional, which has safe, semi-automatic and full auto positions, and four-positional, which has safe, semi-automatic, burst and full auto positions. Burst mode fires two or three rounds at a single trigger pull (2 or 3 - depends on the exact model).
The MP5 can be fitted with fixed (MP5A2; MP5SD2) or collapsible (MP5A3; MP5SD3) stocks.
The MP5 features a cold hammer forged, 9-inch free-floated barrel, with a 1:10 twist rate. It is pressed and pinned into the receiver.
The standard MP5 uses 9x19mm Parabellum ammunition, but there are specialized variants chambered in more powerful .40 S&W and 10mm Auto. These variants can be spotted by different, straight magazines. There are 30 round and 15 round proprietary magazines for each type of ammunition. There are also variants of the MP5 that use an integrated suppressor, designated as "MP5SD". "SD" is an abbreviation of the German word "Schalldämpfer" (silencer). It has an integral silencer and a vented barrel, which allows normal ammunition to be fired at subsonic speeds. However, the standard variants of the MP5 can be outfitted with suppressors as well.
The MP5K only comes in 9x19mm, and is the compact variant of the MP5.
The MP5K (K for "Kurz", which means "short" in German) is a shortened, lightweight variant of the MP5, introduced in 1976. It has a 4.6-inch barrel, a foregrip and a removed stock making for a very short overall length of 13 inches (325 millimeters). It fires with a cyclic rate of 900 rounds per minute, and can take all MP5 accessories.
MP5K SMGs can also be fired from a specially designed briefcase, which comes with the weapon.
MP5 variants
Edit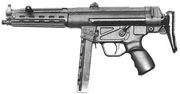 MP5K variants
Edit
References
Edit