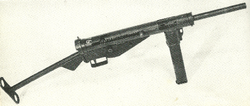 The
MP3008
(Maschinenpistole 3008 or "machine pistol 3008") was a German
submachine gun
manufactured toward the end of World War II in early 1945. It was also known as the Volksmaschinenpistole ("people's submachine gun").
Towards the ends of the Second World War, Germany was lacking the supplies required to manufacture good-quality small arms in large numbers. This led to the creation of various stop-gap weapons such as the Volkssturm series of rifles. To act as a substitute for the MP40, a STEN copy was developed, officially dubbed the "MP3008". It was very cheap to manufacture and effective for what it was. MP3008s were basically identical to the original STEN, but the magazine housing was repositioned so that it fed from the bottom rather than the side. The quality of MP3008 submachine guns depended on the manufacturer. Mauser and Blohm and Voss made some of the better models, but many crude versions were made in workshops by the Volkssturm (people's militia).
Today, a modern, semi-automatic, reproduction is available and is produced by Sport-Systeme Dittrich Kulmbach in Germany.
Ad blocker interference detected!
Wikia is a free-to-use site that makes money from advertising. We have a modified experience for viewers using ad blockers

Wikia is not accessible if you've made further modifications. Remove the custom ad blocker rule(s) and the page will load as expected.