MG 18 Tank und Flieger
Country of origin

German Empire

Designer(s)

Mauser

Weapon type

Heavy Machine Gun

Caliber

13.2mm TuF

Action

Recoil

Cyclic rate

300rpm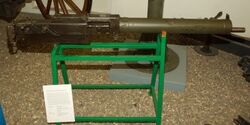 The Maschinengewehr 18 TuF (MG18 TuF) was a 13.2mm TuF (0.520 in) variant of the MG08. The MG 18 was developed as an anti-tank machine gun and additionally as an anti-aircraft gun. It was quite large and was usually operated by a team of 2 to 6 men. The gun was too large to put in the trenches so it was usually put behind the front line.
References
Edit
Ad blocker interference detected!
Wikia is a free-to-use site that makes money from advertising. We have a modified experience for viewers using ad blockers

Wikia is not accessible if you've made further modifications. Remove the custom ad blocker rule(s) and the page will load as expected.