MGP-84
Country of origin

Peru

Designer(s)

SIMA CEFAR

Weapon type

Submachine Gun

Caliber

9x19mm Parabellum

Action

Blowback

Overall length

503mm (stock extended)/284mm (stock folded)

Weight

2.3kg

Magazine/Cylinder capacity

32 rounds

Cyclic rate

650-700rpm

Muzzle velocity

342m/s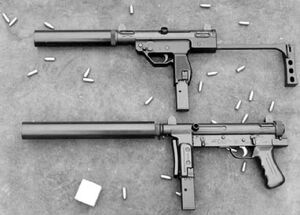 The MGP-84 is a Peruvian submachine gun chambered in the 9x19mm caliber. This weapon supposedly replaced the Browning Hi-Power in the Peruvian Forces.
The MGP-15 was developed in 1990. Had been adopted by the Peruvian Military to replace Browning Hi-Power pistols.
The MGP-14 Micro is a semi-automatic combat submachine gun of the MGP-84, which was known formerly as MGP-84C. It's also known as the MGP-14 pistol.
References
Edit
Hogg, Ian (2000). Jane's Guns Recognition Guide Second Edition. Glasgow: Janes. ISBN 0-00-472453-4.