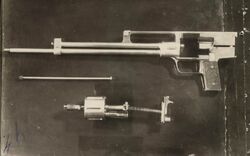 The Kovonalov machine gun (Пулемет Коновалова) was a machine gun of Russian origin.
Пулемет с барабанным камерным питанием А.И. Коновалова. Фото опытного образца пулемета. 1944 г. Авторское свидетельство 66799 МВС. Филиал РГАНТД. Ф.Р-1. Оп.42-5. Д.1528. Лл.3, 4. Основной принцип предлагаемой системы заключался в применении барабана револьверного типа, в котором унитарный патрон (или мина) вводился рядом последовательных движений системы и поворота барабана. Этим достигается резкое сокращение хода подвижной системы и уменьшение ее массы, чем и обеспечивается большой темп стрельбы.
Machine gun with a drum chamber powered AI Kovonalov, 1944. The basic principle of the proposed system was to use a revolving drum type in which a unitary cartridge (or mine) introduced a series of successive motions of the system and turn the drum. This achieves a sharp reduction in stroke of the moving system and reduce its weight, and this provides a great rate of fire.
References
Edit
Ad blocker interference detected!
Wikia is a free-to-use site that makes money from advertising. We have a modified experience for viewers using ad blockers

Wikia is not accessible if you've made further modifications. Remove the custom ad blocker rule(s) and the page will load as expected.