IM Model 5
Country of origin

US

Production began

1997

Weapon type
Caliber
Action

Gas operated

Weight

2.3 kg

Magazine/Cylinder capacity

15, 20, 30 round detachable box magazines 50, 125 round drum magazines

Cyclic rate

800 rounds per minute (Both Sections)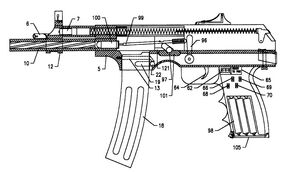 The ITM Model 5 is a Kalashnikov-derived carbine, chambered for the .30 Carbine cartridge. The Model 5 was designed to be a carbine for use in close-quarters battle (CQB) situations, with ammunition that could penetrate walls. It received more attention from the military than previous ITM designs.
The IM-Arms Model 5 or ITM-5 were more simple Kalashnikov-derived firearms. It had a pistol grip, a side-folding stock, and took M1 carbine magazines (15 or 30 rounds) or 125-rds drum magazines manufactured by IM Arms.
References
Edit