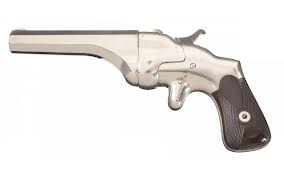 The Hammond Bulldog was a single shot rimfire pistol patented by Henry Hammond in 1864 during the American civil war. The pistol was chambered in many various rimfire rounds such as 44 and 22 rimfire.
The Hammond Bulldog pistol had a swivel breech block which could be opened and the rimfire cartridge could be inserted and the pistol was ready to fire by cocking the hammer and pulling the trigger. Some varients including derringer versions and larger hand held pistols, many were either blued or nickel plated with wooden or rubber checkered grips. Approximately 7,400 of these single shot pistols were made until 1868 when production ended due to due to a defaulted mortgage.
Many of the guns survived to this day in good condition as many have not seen use and are considered to be antique's in the 21 century as their ammunition is scare to come by.
Ad blocker interference detected!
Wikia is a free-to-use site that makes money from advertising. We have a modified experience for viewers using ad blockers

Wikia is not accessible if you've made further modifications. Remove the custom ad blocker rule(s) and the page will load as expected.