HIW VSK
Country of origin

Germany

Manufacturer(s)

Heissische Industriewerke Wetzlar

Production began

1944

Weapon type

Rifle

Caliber

7.92x57mm (rifle)
7.92x33mm Kurz (carbine)

Action

Blow forward

Overall length

24.1 inches (61.2 centimeters)

Barrel length

16 inches (40.7 centimeters)

Magazine/Cylinder capacity

5-round internal magazine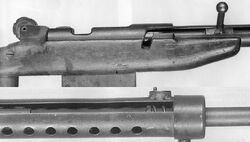 The HIW VSK was a carbine of German origin developed by Hessische Industrie Werke. It was intended as a Volkssturm weapon and used blow forward operation.
The weapon uses a blow-forward action with a movable barrel. Ammo is stored in a non-removable box magazine which holds 5 rounds. The rifle's action is similar to that of a double-action revolver. Pulling the trigger causes the hammer to drop, causing the bolt to unlock and push the barrel forward. When the barrel is blown forward, the gas pressure is high. When the pressure of the gases come back down to atmospheric pressure, the barrel returns to its rear position; this activates the ejector, ejecting the cartridge and causing a new cartridge to be loaded into the weapon. The barrel jacket has holes in it to cool the barrel, while the barrel has polygonal rifling.
Battle rifle
Chambered for 7.92×57mm Mauser round.
Carbine
Chambered for the 7.92×33mm Kurz round.
References
Edit
Ad blocker interference detected!
Wikia is a free-to-use site that makes money from advertising. We have a modified experience for viewers using ad blockers

Wikia is not accessible if you've made further modifications. Remove the custom ad blocker rule(s) and the page will load as expected.