The
Gewehr 98
was a
bolt-action
rifle which was the standard German infantry weapon from 1898 to 1935 when it was replaced by the
Kar98k
, a shorter
karibiner
(carbine) version of the G98. The G98 held an integral, flush mounted 5 round magazine, that could be reloaded using stripper clips or individually by hand. The '98 bolt design is safe, sturdy and reliable, and has been copied worldwide by many firearm makers.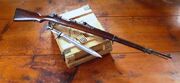 Ad blocker interference detected!
Wikia is a free-to-use site that makes money from advertising. We have a modified experience for viewers using ad blockers

Wikia is not accessible if you've made further modifications. Remove the custom ad blocker rule(s) and the page will load as expected.