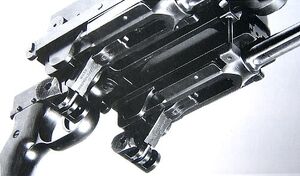 The Flieger-Doppelpistole 1919 was an aircraft submachine gun of Swiss origin. The weapon used a toggle delayed blowback for its operation.
The Flieger-Doppelpistole 1919 is a 2 barrel, magazine fed submachine gun intended as an aircraft weapon. It uses the toggle delayed blowback for its operation firing from an open bolt. Magazines are the curved type from the Furrer MP1919 which the weapon is a variant of. The weapon comes with a pistol grip, stock and crosshair type sights.
References
Edit
Ad blocker interference detected!
Wikia is a free-to-use site that makes money from advertising. We have a modified experience for viewers using ad blockers

Wikia is not accessible if you've made further modifications. Remove the custom ad blocker rule(s) and the page will load as expected.