The FAMAE SAF is a submachine gun produced since 1993 by FAMAE (Fábricas y Maestranzas del Ejército), the Chilean government small arms factory. It is in service with the Chilean armed forces and police and is exported abroad.
The Paramilitary Police, gendarmerie type, Portuguese Republican National Guard (GNR - Guarda Nacional Republicana) and the Prison Guard (Guarda Prisional) both use the FAMAE SAF. The GNR is thought to have both some 4500 weapons, replacing older submachine guns and, partially, the G3 battle rifle in public order maintenance activities.
The SAF is a blowback-operated select-fire gun, firing from a closed bolt. It is based on the Swiss SIG 540 assault rifle which was produced under license in Chile in the 1980s. In general the design is a shortened version of the SIG 540 rifle, but the rifle's rotating bolt has been replaced with a simple blowback bolt. The SAF also has a bolt hold-open catch that engages after the final shot. Otherwise, the receiver, stock, fore-end, trigger/hammer assembly and floating firing pin design are from the SIG 540. The upper and lower receiver, as well as the trigger guard are steel, pistol grip and handguards are all made from polymer. The ambidextrous safety/fire selector switch, as well as the interchangeability with SIG 552/553 handguards, is a feature found on the latest versions. Older versions used own handguards.
The 9mm magazines are transparent plastic, allowing the number of available rounds to be determined visually. The magazine is fitted with protruding lugs on one side and corresponding slots on the other, allowing two or three magazines to be clipped together for faster magazine changes. The .40 S&W magazines are steel and hold 30 rounds. The selector has four settings: safe, single shot, 3-round burst and fully automatic. Some models were made in a semi-auto only configuration.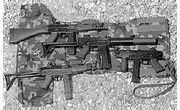 The SAF is manufactured in four versions(three listed):
The standard model with a fixed polymer buttstock, standard with a left-side-folding tubular metal buttstock,
Model with an integral suppressor and folding buttstock,
The Mini-SAF. The Mini-SAF is very compact, at only 12 inches long. It has a shorter barrel, no shoulder stock (although the left-side-folding tubular metal buttstock of the standard SAF can be attached), and a vertical foregrip. The Mini-SAF can use the standard 30-round magazines, but comes with special 20-round magazines for a smaller profile.
All versions have post front sights with adjustable elevation, and aperture rear sights, adjustable for windage.
Ad blocker interference detected!
Wikia is a free-to-use site that makes money from advertising. We have a modified experience for viewers using ad blockers

Wikia is not accessible if you've made further modifications. Remove the custom ad blocker rule(s) and the page will load as expected.