The DP-61 Duel (дуэль in Russian) is a Soviet grenade launcher.
The DP-61 is meant to fill a similar role to the DP-64, which is defending dockyards. Very little else is known.
Design Details
Edit
The weapon's barrel can be tilted up to 45° upwards for various lines of fire.
Ammunition
Edit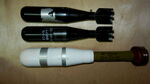 The DP-61 uses the
GDS-55
and
GR-55M
grenades.
References
Edit
Ad blocker interference detected!
Wikia is a free-to-use site that makes money from advertising. We have a modified experience for viewers using ad blockers

Wikia is not accessible if you've made further modifications. Remove the custom ad blocker rule(s) and the page will load as expected.