Calico SMG
Country of origin

United States

Designer(s)

Calico Light Weapons Systems

Weapon type
Caliber

9x19mm Parabellum

Action

Roller-delayed blowback

Overall length

835mm (Stock extended), 647mm (Stock retracted)

Barrel length

330mm

Weight

2.17 kg (Empty)
The Calico M960 is a 9x19mm (Luger/Parabellum) caliber semi-automatic submachine gun (fully automatic versions are available to authorized law enforcement and military, or civilians with the proper Federal Firearms License), manufactured by Calico Light Weapons Systems. Its unique features include its high-capacity, cylindrical, helical-feed magazine and retractable stock. This method allows magazine capacities of 50 and 100 rounds in a relatively small space, making it ideal for law enforcement and special operations units. One of the most interesting aspects of the pistol is that the rear sight is mounted as part of the plastic magazine shell.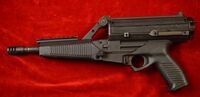 Pistol variant.

References
Edit