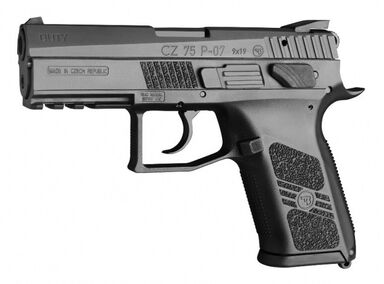 The
CZ P-07
is a compact, polymer-framed
CZ 75
variant notable for light weight and a redesigned trigger mechanism.
Description
Edit
The redesign has reduced the number of parts as well as improved the trigger pull. The exterior restyling was greatly influenced by the SPHINX 3000 design (itself being an enhanced Swiss CZ 75 clone). Chambered in 9mm Luger and .40 S&W, the CZ P-07 also includes the ability to change the manual safety to a decocking lever and vice versa through an exchange of parts. The CZ P-07 is the updated version of the CZ 75 P-07 Duty. The debut of the full-size P-09 last year brought refined lines and interchangeable backstraps to our polymer Omega line. This year the compact-sized P-07 follows suit, with new features and a nitrated slide finish that wears longer and has increased corrosion resistance. The pistol as a whole has been dehorned, removing any sharp edges to make it more comfortable for all-day carry.
Like the P-09, the P-07's safety and decocker are interchangeable with a few minutes and minimal tools. Add to that small, medium and large backstraps and an integrated 1913 Picatinny rail on the dust cover and the P-07 is adaptable to the shooter and their needs, from service pistol to bedside protector to the envy of the shooting range.
The P-07 shares the P-09's updated trigger shape which is more comfortable for long days at the range, as well as its snag-free hammer and forward cocking serrations. Metal 3-dot sights and a beefed up magazine spring round out the bevy of updates, resulting in the best P-07 we've had to date.
Note- Some CZ-USA dealers order special versions that vary from the standard configuration. This might be a difference in sights, safety mechanisms, finish or accessory package. From time to time you may find a P-07 with an extended barrel, tactical light, tritium sights or safety levers only. There are a number of special versions we ship throughout the year.
The CZ P09 is the full-sized version of the P07, with a 19-round factory magazine, rivaled only by the Springfield XDM.
Ad blocker interference detected!
Wikia is a free-to-use site that makes money from advertising. We have a modified experience for viewers using ad blockers

Wikia is not accessible if you've made further modifications. Remove the custom ad blocker rule(s) and the page will load as expected.