Breda Chiron
Country of origin

Italy

Manufacturer(s)
Weapon type
Caliber
Action
Barrel length

61 cm
66 cm
71 cm
76 cm

Weight empty

2,950 kg

Magazine/Cylinder capacity

3+1 Internal magazine
The Breda Chiron is a Semi-automatic shotgun manufactured by Breda. The Chiron is a special synthetic version of the Xanthos.
Design Details
Edit
Having the same Xanthos system, the Chiron is a shotgun intended for the toughest of uses in the most difficult terrains and the harshest of weather conditions. The syntetic stock made of nylon-fiberglass and elastometer significantly absorbs the recoil of the gun and the special rubber coating improves the grip in case of rain and ice.
Ammunition
Edit
The Chiron like it's predecessor Xanthos uses 12 gauge shotgun shells.
It's previous version is the Breda Xanthos but they are different guns. The two guns share almost the same features. Like the Xanthos, it's very efficient to load the Chiron and it allows the shooter to shoot very quickly.
The barrel and the receiver are blued and coated with a special protective film resistant to scrapes and scratches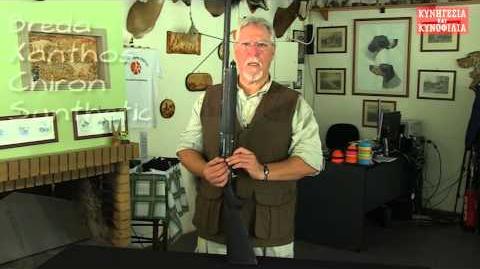 Ad blocker interference detected!
Wikia is a free-to-use site that makes money from advertising. We have a modified experience for viewers using ad blockers

Wikia is not accessible if you've made further modifications. Remove the custom ad blocker rule(s) and the page will load as expected.