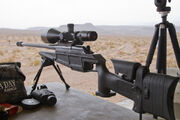 The Blaser R93 Tactical better known as the Blaser Tactical 2 is a German made rifle. This rifle is used by Australian, German and Dutch police and special forces.[ citation needed ] The rifle is manufactered by Blaser who mainly do bolt-action hunting rifles. The straight-pull action design was introduced in the Blaser R93 hunting rifle line. These actions allows for faster follow-up shots compared to traditional turn bolt actions which is perfect for military and police use as well.
This rifle is designed to fire sub minute of angle (MOA), 3 shot groups (0.25 MOA) with factory match ammunition.
| | | | | |
| --- | --- | --- | --- | --- |
| Caliber | | | | |
| Overall length | 1130mm | 1130mm | 1150mm | 1190mm |
| Barrel length | 627mm | 627mm | 650mm | 685mm |
| Rate of twist | 10" | 11" | 11" | 10" |
| No. of grooves | 4 | 4 | 6 | 6 |
| Magazine capacity | 5 | 5 | 4 | 4 |
| Weight w/o scope | 5.4 kg | 5.4 kg | 5.4 kg | 5.8 kg |
The LRS 2 (Long Range Sporter 2) versions come chambered in .223 Remington, 6mm Norma BR, 6.5x55mm, .300 Winchester Magnum and .338 Lapua. This is good for counter-terrorist and police units to interchange and use different calibres to avoid over-penetration. The .338 Lapua version is fitted with a larger barrel.
The rifle allows the barrel and sight to be removed easily from the body. This makes it suitable for easy storage in backpacks and within vehicles. They can be reassembled within 30 seconds. It only weights 5 kg so due to its weight it is more convenient within a backpack that most other sniper rifles.

Locking System:
When the R93 bolt is locked it centers, automatically. Repeating is extremely fast. The shooter is staying firmly in his aiming position. The entire operating is simple and smooth.

1. Barrel and scope mount The barrel is easily exchangeable. It is fluted in order to guarantee optimum shooting characteristics. The barrel is equipped with a picatinny rail. It allows any scope to be mounted precisely and very low.
2. Receiver block The receiver block is bedding the barrel and contains the trigger assembly and the magazine. It is shaped out of one block of extremely tough aluminium alloy. This receiver is fundamental to the high durability of the Tactical 2. Thermally related tensions are impossible.
3. The synthetic stock The one-piece synthetic stock is absolutely stable in its dimensions even in extreme temperatures. Butt plate and cheek-piece are adjust­able in length and height.
Straight Pull Action Repeating is fast and straight with minimum movement. The self-centering of the bolt head is a great contribution to steady accuracy.
Ad blocker interference detected!
Wikia is a free-to-use site that makes money from advertising. We have a modified experience for viewers using ad blockers

Wikia is not accessible if you've made further modifications. Remove the custom ad blocker rule(s) and the page will load as expected.