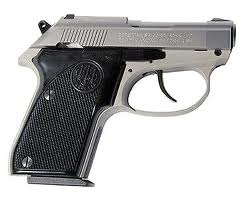 The Beretta 3032 Tomcat and Beretta 3032 Tomcat Inox are semi-automatic pistols designed and manufactured by Beretta. It is chambered in .32 ACP.
Specifications
Edit
The Beretta 3032 Tomcat is a simple blowback pistol with a single and double action trigger mechanism. It is fitted with a frame mounted thumb safety. The frame is made out of aluminum alloy, the slide and barrel are either carbon or stainless steel.
Intended market
Edit
The Beretta 3032 Tomcat is a pistol categorized by Beretta as a pocket pistol, designed for concealed carry. This makes it a good gun for undercover agents, off-duty police officers (or on-duty as backup), and civilians who carry a concealed weapon.
Design details
Edit
The design is simple and small, and very easy to conceal.
The barrel can be released to pivot on a pin under the muzzle ('tip-up' barrel). This feature allows a round to be inserted into the chamber directly, without manipulation of the slide. Likewise, the chamber can be easily inspected for its load status.
The design is practical and simple. The tip-up barrel allows the user access for simple loading a round directly into the chamber. It also aids in the clearing of the pistol by allowing a live round to be removed from the chamber and for the bore to be quickly checked. This design allows malfunctions to be eliminated by the open slide design.
It is available in an "Inox" variant, with stainless steel barrel and slide and the frame anodized to look the same. For a short time a titanium model was also available.
Limitations
Edit
The .32 ACP cartridge is, outside of America, considered to be sufficient enough to carry for self defense. The safety system is very basic. The accuracy of the pistol is best suited for short range.
The pistol lacks an extractor, relying upon the expanding gasses to force the spent casing rearward. This means that racking the slide will not remove either unspent or defective cartridges. This can lead to complications in a self defense situation, but is often balanced out by the tip-up barrel.
Technical data
Edit
Trigger system: Single-action or double-action
Frame material: Aluminium light alloy
Slide and barrel material: Carbon or stainless steel (Inox and Titanium models) rifled for accuracy
Grip material: Plastic
Safeties: Frame mounted safety.
Magazine release: Lower grip heel.
Magazine Capacity: 7
Barrel Length: 2.4 inches
Total Thickness: 1.1 inches
Total Height: 3.7 inches
Sight Radius; 3.3 inches
Weight Unloaded: 14.5 ounces
Barrel: Tip up style
Ad blocker interference detected!
Wikia is a free-to-use site that makes money from advertising. We have a modified experience for viewers using ad blockers

Wikia is not accessible if you've made further modifications. Remove the custom ad blocker rule(s) and the page will load as expected.