Benelli CB-M2
Country of origin

Italy

Manufacturer(s)
Designer(s)

Bruno Civolani (gun)
Franchi (bullet)

Year(s) designed

1980s

Production began

Never made

Weapon type

"Caseless" submachine gun

Caliber

9x25mm AUPO

Action
Overall length

26 inches (66 cm)
17.7 inches (45 cm) with stock folded

Barrel length

8.7 inches (22 cm)

Weight empty

7.5 pounds (3.4 kg)

Magazine/Cylinder capacity

40 round detachable box magazine

Cyclic rate

800-1000 RPM

The Benelli CB-M2 is an experimental submachine gun.
History
Originally designed in the 1980s, the Benelli CB-M2 was supposedly invented to use a caseless round. However, due to inefficiency, it brought no sales and the project was shelved.
Design Details
The CB-M2 looked like a regular submachine gun, but had a void behind the magazine well; this was an ejection port for rounds to be pulled out when a jam occured. It is similar to a rimfire weapon, where the hammer strikes the top of the cartridge.
Ammunition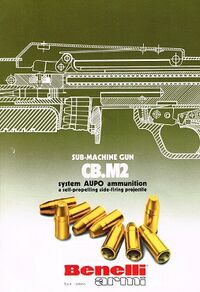 The CB-M2 used an experimental 9mm round, the
9x25mm AUPO
. Similar to the ubiquitous
9x19mm Parabellum
in ballistics, the 9mm AUPO round was advertized as caseless, but was not exactly so, as the cartridge's "case" was permanently attached to the bullet, and left the barrel together with the bullet when firing.
Trivia
References
Ad blocker interference detected!
Wikia is a free-to-use site that makes money from advertising. We have a modified experience for viewers using ad blockers

Wikia is not accessible if you've made further modifications. Remove the custom ad blocker rule(s) and the page will load as expected.