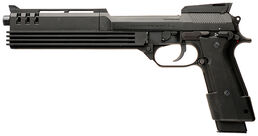 The "Auto-9" is a fictional machine pistol featured in the RoboCop series of movies. The original Auto-9 was a heavily modified Beretta 93R that was originally built for the titular protagonist of the 1987 film RoboCop, fitted with an extended casket-shaped barrel. Originally, the character was to use a Desert Eagle handgun, which at that time had only been recently introduced to the market. However, while the Desert Eagle looks big in the hands of a normal person, all of RoboCop's extra bulky armor made the Desert Eagle look relatively small in comparison. Therefore, the Auto-9 was made for RoboCop. Extra paperwork had to be filled for the Auto-9 to be allowed into the United States, because while technically a "pistol", for all intents and purposes it was a high caliber near-automatic weapon, which comes with extra restrictions.
The Auto-9 has been such a popular design that it has since been reused in numerous other motion pictures, including the sequels and spin-offs to RoboCop.
Ad blocker interference detected!
Wikia is a free-to-use site that makes money from advertising. We have a modified experience for viewers using ad blockers

Wikia is not accessible if you've made further modifications. Remove the custom ad blocker rule(s) and the page will load as expected.