The Arch Angel Mosin Nagant Stock is a modernised stock for all variants of the Mosin Nagant (M91, M1907 M91/30, M38, M44, M91/5) including the yugo m24/M27/M28/M39 and chinese varients. The stock replaces your rifles internal magazine with a external magazines which holds 5 rounds (included with the rife) or 10 rounds (sold sepreatly).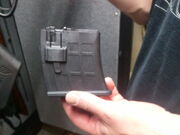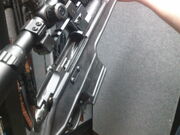 The stock is extreamly adjustable, the cheak pad can be raised just over 6 inches and butt plate 2 inches (estimate, needs revision). The stock also includes a barrel tension piece, and a swivle sling mount (requires drilling). The stock also includes a removeable piece which covers a slot for a safety on a Timney trigger.
Fitting the Stock to the rifle
Edit
Unfortunatly as it is designed for all mosins, it may require you to slightly modify your stock to fit the rifle well. Some rifles will have a hard time sitting at the middle of the reciver and may require you to sand down the inside of the stock.
Ad blocker interference detected!
Wikia is a free-to-use site that makes money from advertising. We have a modified experience for viewers using ad blockers

Wikia is not accessible if you've made further modifications. Remove the custom ad blocker rule(s) and the page will load as expected.