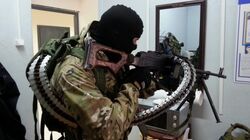 An Ammo Backpack is an ammunition box mounted on a rucksack with a feed chute inserted into the machine gun.
Ammo Backpacks were first used during the 1950s when the AR10 machine gun were trialled. The idea was revived in Afghanistan in 2012[1]
External Links
Edit
Ad blocker interference detected!
Wikia is a free-to-use site that makes money from advertising. We have a modified experience for viewers using ad blockers

Wikia is not accessible if you've made further modifications. Remove the custom ad blocker rule(s) and the page will load as expected.