AO-63
Talk

1
1,113pages on
this wiki
AO-63
Country of origin

Soviet Union / Russian Federation

Designer

TsNIITochmash

Production began

1986

Weapon type
Caliber
Overall length

890 millimeters

Weight empty

3.68 kilograms

Cyclic rate

850 or 6000 rounds per minute

Maximum effective range

600 meters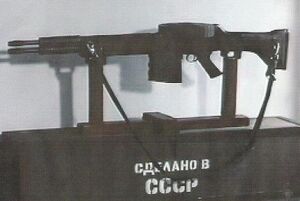 The AO-63 is a Soviet two-barrel assault rifle chambered for the 5.45 x 39 mm round. It was designed by S. G. Simonov and P. A. Tkachev, and manufactured by TsNIITochMash.
It uses an over/under barrel configuration, and it can reach a maximum rate of fire of 6000 rounds/min, when fired in two-round burst mode, making it the fastest firing assault rifle known. According to some sources the weapon uses a top mounted drum magazine with a capacity of 50 or 100 rounds.
The AO-63 assault rifle was used by the Spetsnaz during the "Abakan" trials in the mid-1980s, in search of a more accurate alternative to take place over the standard issue AK-74, with AN-94 being the winner among numerous other weapons.
Ружье" 1_1998 "Эйнштейн, Чехов и Платон?
Oruzhie magazine, Pages 6/7/8, Issue No1 1998.